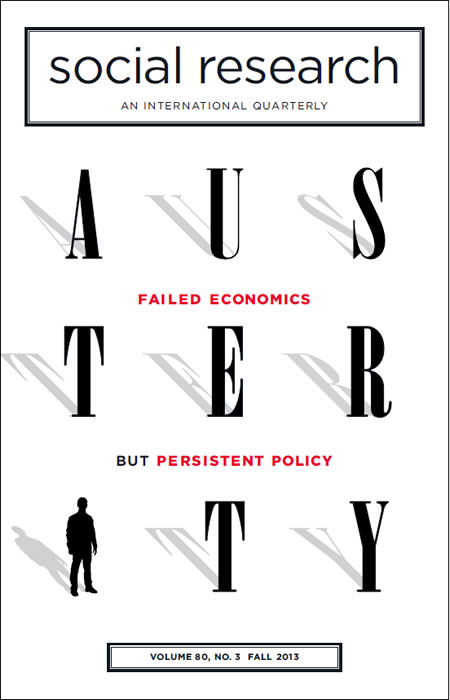 Following a debilitating federal shutdown that failed to resolve conflicts over government spending and economic recovery, I joined with my fellow SCEPA economists to both edit and contribute to an upcoming journal publication that critiques the mainstream acceptance of austerity policies that persist politically despite continued economic stagnation.
"Austerity: Failed Economics But Persistent Policy," is the November 1st issue of Social Research: An International Quarterly, a publication produced by The New School's Center for Public Scholarship. The volume includes thirteen essays by leading economists, including Robert Pollin, Rick McGahey (my co-editor), and Willi Semmler, offering tools to escape austerity's ill-advised vision and concrete policies to create economic growth and prosperity for all people, rather than just a wealthy few.
The volume describes austerity policies both here and abroad, how implementation has restricted economic growth, and why government officials continue to support these policies in spite of their poor track record. Specifically, authors argue that austerity policies hamper economic recovery, but remain popular among elites as a tool to lower labor costs and taxes while increasing profits. A real path to economic recovery and long-term fiscal health requires refocusing the debate from how to eliminate debt to how to eliminate mass unemployment.
Alternative policy proposals include a federal loan guarantee program for small businesses (Pollin), creation of a permanent federal government job guarantee program (Hamilton), and an expansion of Social Security to stabilize the economy and bolster the bargaining power of labor (Ghilarducci).
The issue can be ordered online.